Cooking & Dining
As the sun dips towards the horizon, a group of food lovers gather around a large circular table next to a pool that sparkles in the early evening sunshine. They pour glasses of crisp, cool wine while admiring views over a crystal blue sea. A chef welcomes them warmly and outlines what's on the menu for dinner, before preparing an Ionian feast. Herbal oven lamb, rabbit stew with cheese, agalas stuffed chicken. The guests watch as he explains what he is doing, where the ingredients are from, sharing secrets from his family recipe book. They ask questions, smell, taste and watch as the meal is prepared in front of them, before they tuck in with gusto.
Kalí óreksi!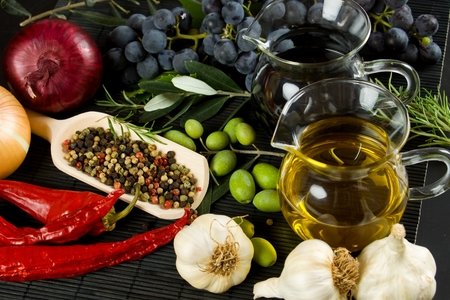 The perfect culinary vacation
Welcome to Donkey Bay Club. This small, exclusive resort on the island of Zakynthos in the Ionian Sea will dazzle you with its stunning scenery while tantalising your taste buds.
Whether you like sampling local foods on vacation or want to learn the secrets of making delicious Mediterranean dishes that you can replicate at home, Donkey Bay provides the ultimate food lovers' holiday.
A culinary adventure
Sharing our knowledge and passion for local Ionian cuisine is what a stay at Donkey Bay is all about. This is a foodie holiday with a difference. It is not a cookery school. We don't expect you to get your hands dirty, although if you'd like to help the chef you are very welcome to put on an apron. What you will get is an inside scoop on the wonderful dishes the island of Zakynthos is renowned for, all in a relaxed, luxurious and friendly environment.
But we don't stop there. We can also:
Arrange trips to local bakeries, cheese-makers, nougat-makers and wineries
Advise on the finest restaurants on the island, with suggestions on what to order so that you try the best cuisine on offer
Invite professional chefs from the island to Donkey Bay to demonstrate their cooking skills
Pass on recipes handed down through our family for you to take back home and try out
Enable you to discuss cuisine with like-minded food lovers, a great way of meeting new people with a similar passion for good food
Show you the local markets where we buy our ingredients fresh each day or help pick the vegetables and herbs we grow on site
Let you show off your cookery skills if you are a professional chef keen to demonstrate what you've learnt
A few sample dishes you might get to try include:
Grilled Fish with Herbs
Zakynthos Saltsa (Beef Stew)
Ragout and pasta
Mousaka with long aubergines
Skordostoupi (Aubergines & garlic)
Stuffed tomatoes with herbs
Zante Bruscettas
Whether cooking is your hobby, or you simply have a passion for eating excellent food, a visit to Donkey Bay is a must for foodies. There is no set itinerary. Just tell us what you'd like to try and we'll arrange it for you.